Mary's Walk began in 1999 as a unique way to recognize and remember Mary Kerry Libby, a much-loved member of the Saco-Biddeford community who passed away from Burkitt's Lymphoma.
What started as a simple memorial stroll through town with a few hundred people has evolved into a major community effort that has attracted over 50,000 participants in its 20-year span and raised over $3 million to support Maine-based cancer programs.
Last year Mary's Walk, and its companion run, the Kerrymen 5K, raised nearly $250,000 and attracted 2,000 participants to downtown Saco.
Thanks to advances in the understanding of cancer, Burkitt's Lymphoma now has an effective treatment that saves lives every year. We will continue to support the memory of Mary and all men and women who suffer from every type of cancer until we can proudly celebrate a Maine without cancer.
Slancha!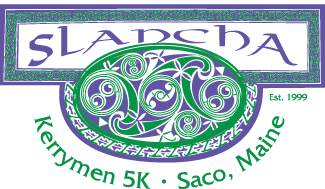 WHAT DOES 'SLANCHA' MEAN?
Since the beginning, Mary's Walk and Kerrymen 5K have included the Gaelic word "Slancha," meaning health. The original spelling is "Slainte," and the term has now become a common toast or cheer in Ireland and Scotland, meaning "Good health" or "To your health."