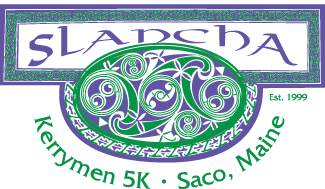 Sometimes you can never say thank you long enough or loud enough. The Mary's Walk and Kerrymen 5K planning committee would like to share some exciting news about this year's event, but first, the committee would like to extend a heartfelt thank you to all of the participants, corporate sponsors, volunteers, members of the Saco Police department, Saco Fire department, the workers from the Saco Public Works department, and Thornton Academy for helping us raise more than $3.7 million to fight cancer in Maine during the past 23 years. 

As a committee, the safety of our participants and volunteers this year is the most overriding concern. Because of that, and because at this point, we cannot predict precisely how severe the COVID-19 pandemic will be on Sunday, March 20, 2022, we have made some tough decisions about Mary's Walk and the Kerrymen 5k will proceed this year.

The committee and the city of Saco want to give our participants a chance to come together and walk in solidarity against the disease that has affected so many. For some, the walk is a celebration. For others, it is a chance to continue the fight, and unfortunately, for all too many, it is a walk filled with memories of those who are no longer here. For everyone, it is a walk that honors our community.
This year, Mary's Walk will take place as planned on Sunday, March 20, in person, beginning and ending at Thornton Academy. The walk route has changed this year to minimize the number of outside volunteers and safety officers. The route is approximately the same length, and in part, it will take place on a section of the Eastern Trail dedicated to the memory of Mary Kerry Libby and Mary's Walk. We will attach a detailed outline of the route, and we will have volunteers on the route to direct walkers on March 20. 
In an effort to keep our participants and volunteers as safe as possible, the committee has made the decision that the Kerrymen 5K will be virtual again this year. Wherever they may be, runners will be encouraged to don their Mary's Walk and Kerrymen 5k running gear and take to the streets, trails, and beaches near their homes. Runners have long been an essential part of this event and will continue to do so this year.

The planning committee again would like to thank the city of Saco for working with us to hold the event this year in person, but at the same time, participants, both runners, and walkers, may have questions. We encourage all to check our Facebook page often for the latest information, and please send us a note. 
Mary's Walk remembers Mary Kerry Libby who passed away from Burkett's Lymphoma on March 7, 1997. Her memory keeps our hope alive. Join us in 2022 to make a difference for the people of Maine and bring hope to thousands of Maine families.
______________________________________________________________________
About Maine Cancer Foundation:
Maine Cancer Foundation is dedicated to reducing cancer incidence and mortality rates in Maine. 100% of funds raised by the Foundation are used to benefit the people of Maine. We lead a state-wide effort to advance the most promising and effective cancer-fighting efforts available to the people of Maine through a combination of grant-based financial support and coalition building. Learn more at https://mainecancer.org 
History
            Mary's Walk began in 1999 as a way to remember and honor Mary Kerry Libby, a much-loved member of the Saco-Biddeford community, who passed away from Burkitt's Lymphoma March 7, 1997.  Twenty-two years later, Mary's Walk and its companion run, the Kerrymen 5k, have raised over $3,490,000 for the people of Maine and is now one of the largest cancer foundations of its kind.  Mary's Walk, a non-profit charity, donates all proceeds to the Maine Cancer Foundation, a state-wide organization focusing on early detection, access to care, and research that support cancer patients and their families.
            In an all too familiar story, Mary was diagnosed with Burkitt's Lymphoma July 5, 1996.  After a courageous 8-month struggle, Mary lost her fight with cancer.  She was 46 years old, leaving behind 4 beautiful children – Jessica, Katie, Matthew, and Lindsay.  An avid walker, Mary was well-known in the community for her friendly smile, gracious charm, and kindness.  The walk route, commencing at Thornton Academy, traces a portion of the exact route Mary walked almost daily. 
            Mary's Walk celebrates community and the individual spirit who, like Mary, quietly labor, love, and lead others in the fight against cancer.  Each Mary's Walk we renew our commitment to life, to each other, and to the common struggle against cancer.
            Mary's Walk is about making a difference at the community level in the fight against cancer.  Our moniker "Making a difference is just a short walk away" reminds us that we can all make a difference in the fight against cancer by contributing to cancer care and research.
KERRYMEN 5k – Maine State 5k Championship
            The companion Kerrymen 5k is a USA track and field certified 5k course.  In 2019, the road race was designated by the Road Runner Club of America as the Maine State 5k Championship.  Up to 1,000 runners participate annually.
ONE MILE DEDICATION
            In October 2013, the City of Saco dedicated a bronze plaque at the 1-mile mark of the Kerrymen 5k.  The plaque reads:
In memory of Mary Kerry Libby (1951-1997) and all those lost to cancer.  With the commitment of volunteers and support of the City of Saco millions of dollars have been raised for cancer research for the people of Maine.
EASTERN TRAIL DEDICATION – MARY'S WALK
            On August 9, 2014, the City of Saco dedicated a portion of the Eastern Trail bordering Thornton Academy as Mary's Walk.  The dedication plaque reads:
A 1970 Thornton Academy graduate, Mary, a mother of four children, was lost to cancer at the age of 46.  Her indomitable spirit, friendly smile and joy of life inspired Mary's Walk, an all volunteer charitable walk / run founded in Saco in 1999 that has raised millions for cancer research for the people of Maine.  Her strength of spirit and gentle soul continue to inspire good works for many.
Donald E. Pilon, Mayor
STATE-WIDE RECOGNITION
            One of the signature events of Mary's Walk Celebration of Life is the opening ceremony.  Annually, the State's governor, beginning with Governor John Baldacci and continuing with Governor Lepage and present governor Janet Mills, has welcomed participants at the annual event.
WHAT DOES 'SLANCHA' MEAN?
            In 1995, Mary and her husband Gene celebrated their 25th wedding anniversary.  A proud Irish woman, Mary wanted a vanity plate with the Irish toast "Slainte" to recognize her Irish roots.  The Gaelic term "Slainte" has various interpretations, but generally is used as a common toast meaning "to your health."  Unfortunately, the correct spelling of the Gaelic term Slainte was already assigned so Mary adopted the phonetic spelling of "Slancha."  Whether spelled correctly or phonetically, it has the same meaning – "to your health" or "good health."